The advantages of electric blankets and Electric Heating Throw
How do you combat cold, chilly nights in Winter ?
1.By a thermostat or air conditional, or fireplace ?
It's not a green lifestyle, waste energy.
2.Using many layers of normal blankets , like a bear ?
It's not ideal way to get uniform warmth, and caused many laundary washing work.

Turn off your electric heater, and well storage your normal blankets in closed, An electric blankets or heating throw
is the best choice in cold weather, there are reasons:

1. Heated Throw has fast heating function, will provide warmet within 3 minutes,
and about 8mins will have a steady high temperature.
2. Heating Throw with auto off function, is a green way to save energy.
3.The controller of heating throw is detachable, can be washed by machine, will reduce housework and protect your hands for lady.
4. Steady Warmth of heating throw is also therapeutic

A Throw can be used while watching TV, reading an interesting book, or take a short nap on the sofa, it can be used in living room,at home, in office, or in your car .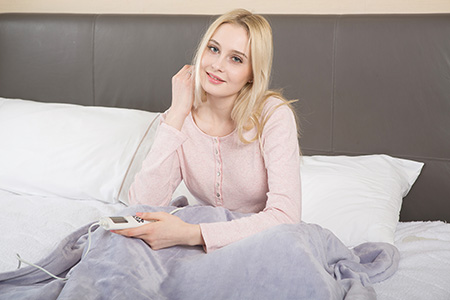 How to select a high quality electric throw ?
Durablity : Our heating throw can be used at least 5 years if proper cared, the fabric and heating wire in side are cosy and comfortable to you.
Easy to Use: our controllers are with ergonomic design,easy to handle and operate,also have LED or LCD display.



Cost: We have two factories, will provide cost price for clients; also ,with large quantity orders and stable cooperation,we can strict control the raw material cost,like fabric, gift box, etc.
Safety: Last but most important, safety is the key point for purchasing heating throw, or electric blankets. For US Market, our heating throw have ETL, UL, FDA Certifiacates; For EU Market, we have CE,RoHS,REACH,GS,oeko-Tex Certificates; Two factories are BSCI and ISO9001 qualified.
Overheating Protection and Auto Off will ensure the safety as well, using our heating blankets or heating throw, you'll no worry about if you forget to turn it off and enjoy a sweet dream during the chilly nights.

If need more details about BS Group heating throw or electric blankets, contact us freely, we are at your disposal!

Email: sales16@bstherm.com
Mobile/Skype/Wechat:+86 186 8298 0652
WhatsApp: +86 186 8298 0652
Email: sales16@bstherm.com